AUTOMOTIVE FOOTFALL ANALYTICS
We tailor our solution offering to your individual needs, delivering the right insights to drive performance
XR Automotive Analytics Does It All
In dealer sales and marketing, big data analytics identifies customers who are currently in the market and have a high inclination to buy. Once prospects are identified, dealers have the opportunity to reach out to them before they back out.
Through Xpandretail's Ai-Enabled Footfall Counting & Visitor Identification Solutions, auto dealers get raw insights into leads. Coupled with the inclination to the purchase of each lead. This in-turn, leading to higher chances of converting them into customers. In a nutshell, one of the big advantages of XR automotive analytics is that it provides dealers with the timely business insights they need to close sales successfully.
LEVERAGING THE XR FOOTFALL DATA
Advanced XR people counting systems  enable auto dealers to understand all that transpired with buyers since their last purchase. In addition, enabling dealers to offer more relevant deals & promotions. Having access to this data can also help build a bond with the client & gain their long term loyalty. Customers will feel that the dealer understands their specific needs quite well. XR automotive analytics enables showroom businesses to efficiently use the most critical resources – PEOPLE & TIME – which in turn leads to higher profits.
With XR automotive analytics, know how many people are return visitors to your showroom to check out new car models. Also, how many come in for test rides, & how many of them end up making a purchase. Convert the data which enables deals to help you turn more visitors to customers.
With gender recognition & group counting analytics, launch new media ads & marketing campaigns. Use gender data to test their effectiveness. With this data, showroom managers can develop new channels to increase customer engagement & keep prospective buyers in the room.
XR automotive analytics analyzes your showroom, giving transparency on prevalent footfall traffic trends. Compare & benchmark multiple car showrooms locally & globally. Visitor analytics enable dealerships with real-time occupancy data of their showrooms. XR solutions enable dealers in measuring the footfall traffic which accompanies the unveiling of new models. Resulting in testing the effectiveness of new marketing initiatives.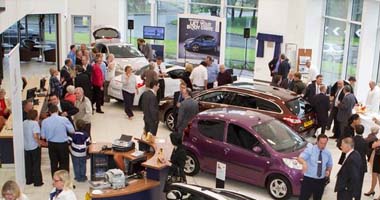 XR Path Tracking technology provides data on how customers move around the showroom. With XR automotive analytics, you are getting areas or zones are receiving more footfall. (e.g. customer service desk, new line models, luxury models and/or pre-owned models)
STAFF ENGAGEMENT
It is a common fact that the number of people who visit a dealership need convincing before they make a purchase. Many want to check the available offers and compare them to other dealerships before making a decision. Market research proves the longer a customer stays in the showroom, is more likely to make a purchase. This all falls on the shoulders of the sales staff who are on the floor, connecting with the customer.
Xpandretail Staff Identification enables management to review the engagement level between the staff and the customer. Through analyzing the data of dwell timing and staff engagement. Dealerships can understand the customer journey with full transparency. (e.g. how long the staff accompanied the customer, which models did the staff spend more time with the customers, did the staff engage the customer)
Xpandretail has been delivering analytics for over 15+ years and having 40,000+ installations in over 40 countries and partnered with well-known market giants. Apart from this, they provide some additional bonus features such as:
You can compare success rates across all showrooms.
Track new, repeat & cross location buyer traffic.
Leverage Omni-channel retailing data for in-store engagement.
START YOUR JOURNEY WITH XPANDRETAIL TO BRING YOUR BUSINESS TO THE PINNACLE OF SUCCESS.