Streamline workflows with XR Asset Tracking & Inventory Management system
Track each asset's location in your inventory. Streamline workflows with fewer disruptions to business operations. Make data collection easy and reliable with an advanced asset-tracking system for small and large businesses.
Stop counting. Start scanning.
Managing inventory can be tough, but not with our Inventory Management System. The Xpandretail RFID scanner is designed to ease all your asset-tracking problems, enhance customer experience and streamline sales. Our management system allows you to track stock automatically and instantly, so you always know exactly where each asset is.
Our scanners are particularly useful in warehouses, factories, and IT organizations. They let you track stock automatically, giving you more time to focus on customers instead of paperwork. The RFID tags also increase security by eliminating inventory issues that arise from misplaced items.
Why a robust Asset Tracking & Inventory Management System is essential to your business
Managing and identifying precious assets in warehouses and distribution facilities takes a lot of work. The time spent looking for the right equipment often results in costly delays, lost labor, and missed deadlines, among other issues. Moreover, there can always be a risk of increased stockout costs due to overall mismanagement.
Employees often accidentally misplace items and cause discrepancies. They also might manually enter incorrect information; this erroneous data, due to human error, can slow down or even halt operations.
Whenever an item is lost, the warehouse inventory management team has to carefully dispatch personnel to locate it in large warehouses – some of which have multiple floors. Additionally, each region that is full of shelves high and low must be adequately inspected, which can take a toll on the team and result in wasted time and effort.
The solution to all your inventory management headaches isn't eons away. It's already here.
Accurate asset tracking
Easily keep track of each item's location, whether placed on the shelf or shipped out for sale. With RFID Inventory Management System, you get quicker and more reliable data collection, fewer disruptions to business operations, and increased security.
Greater security & flexibility
Get the power to build a seamless, efficient, and highly accurate information flow! Our system does all the work for you and ensures that your stock is easily accounted for so you can relax with complete confidence in your firm's security.

Insightful analytics
Streamline your business processes and focus on what matters most – innovation. Through the use of RFID technology, we efficiently process data, thus enhancing your business workflows and allowing you to advance faster than ever before.
Lower operating costs
Swiftly check in, verify shipments and count the number of products in stock. The RFID Inventory Management System can help you save time and costs in the long run.
Automatic asset tracking
In today's fast-paced world of digital transformation, businesses are constantly seeking ways to improve their business processes. The RFID Inventory Management System allows you to track returnable assets in real time, from fixed and mobile locations.
Everyone needs efficient asset management. Here are a few major industries RFID is helping to revolutionize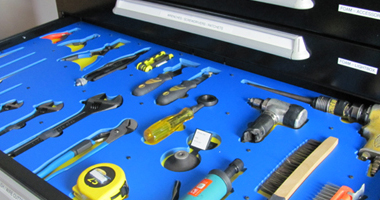 RFID asset tracking is useful in the manufacturing sector for tracking construction tools. Each tool is tagged with a microchip that transmits data to a reader. An RFID Asset Tracking System is a great way to know how many devices you have on hand at any given time, and what kind of tools they are.
RFID asset tracking helps monitor assets despite the chaos and confusion of a busy factory or warehouse floor. Now, keeping track of inventory and assets without ever losing them is not a pipedream, but a reality.
Tracking high-value IT assets and computers is one of the most effective ways to control costs for any organization. You can manage and track all your IT assets by implementing a world-leading RFID asset-tracking solution.
Corporate & Government Sector
Performing manual check-ins and checkouts for employees at work takes up a lot of time. It's also common to lose important documents as they get moved throughout a building. With RFID Document tracking, your team can quickly locate documents and monitor movement, saving precious time and money.
RFID Inventory Management Products
Need to locate a specific business asset? Why waste time searching manually? Let XR RFID connect to your network and update all asset information! Our RFID Tracking Equipment automatically updates the location & visibility of all your assets in the database in real-time.
Xpandretail RFID Asset Tracking components
Track assets in real-time with fixed Xpandretail RFID readers and high-throughput antennas. Real-time asset tracking lets you know exactly where your critical assets are at any given time.
With RFID tags, you can identify items using smart barcodes. Our range of RFID tags is customizable for every type of asset you want to track.
Mobile RFID readers equip your asset-tracking staff with the tools they need to update asset locations, locate missing items, or make changes on the spot. The mobile RFID asset-tracking market offers a wide range of Xpandretail RFID devices and advanced software.
Join an ever Xpanding list of clientele