Since the launch of the first iPhone in June 2007, the number of devices owned by an average consumer rose. From ever-more powerful smartphones to smart homes, voice-controlled personal assistants, drones and streaming TV sticks, connected devices now touch almost every aspect of our lives.
Consumers are impatient, and thus firms must link devices to users personal data to predict what they'll need next. Customers are always in touch with other people via social networks and chat. In addition, they increasingly engage with brands through more channels and personalized experiences. The connected consumer is changing the world of products and services from a once-in-awhile interaction to a constant connection.
Consumer Shopping Habits and Preferences
As consumers become more connected than ever, their shopping habits are shifting accordingly. While e-commerce is an essential part of retail strategies the past several years, increased consumer comfort with online, mobile and even voice shopping has pushed the industry to a tipping point. Nearly half of consumers (46 percent) now prefer to shop via non-traditional channels, such as mobile, desktop or voice-controlled device. In comparison, 54 percent who still prefer the traditional in-store experience.
Almost all consumers (96 percent) shop online occasionally, with nearly a third (29 percent) making purchases at least weekly. And among online-savvy Millennials, that number is almost two in five (37 percent), with 8% percent reporting, they shop online daily. The majority of consumers (61 percent) now buy online at least once a month. However, more than half of shoppers still visit physical stores at least weekly. Therefore, demonstrating the ongoing importance of the brick-and-mortar experience.
A Rise in Multi-Channel Platforms
But online shopping isn't just about e-commerce websites anymore. Mobile commerce is on the rise, and voice-ordering is emerging as an important channel for retailers to engage with consumers. There will be monumental shifts in the coming years as computing becomes part of the fabric of our lives.
The majority of consumers (65 percent) now have mobile shopping apps on their phones. Moreover, two-thirds of customers reportedly conducted purchases through a mobile app (66 percent). More than one in four consumers (29 percent) often prefer to do most of their shopping via a mobile app. In addition, 38 percent of customers always or often shop on mobile websites.
An increase in mobile shopping doesn't mean brands and retailers have necessarily cracked the code to success. For instance, just as Amazon rules the desktop, third-party applications reign on mobile devices. Today's consumer is more likely to have a marketplace application, such as Amazon, eBay, or Etsy, on their mobile device (51 percent) than a retailer (40 percent) or branded application (13 percent). Not only are brands and retailers struggling to engage consumers, but they're now also having to compete for screen share on mobile devices.
Improving Retail Shopping Experiences
When asked what would motivate them to use a retailer's app more regularly, nearly a third (31 percent) of consumers cited an easier purchasing process, indicating that faster check-out processes, like Amazon's one-click or thumbprint purchasing option, may give marketplace apps a leg up in this space. Consumers also cited discounts specific to the application (48 percent), and more in-depth product descriptions and images (26 percent).
Shaped by their always-on experiences, shoppers today expect a superior customer experience that can be challenging for most retailers. As Amazon continues to set the pace, this is especially true when it comes to speed, convenience and transparency in digital commerce across channels.
This means it might be too early to overlook the importance of the in-store experience. The study findings show that physical stores could be making a comeback, especially among younger consumers who crave more authentic and engaging experiences. And as the lines start blurring between the online and physical shopping experiences, consumers are beginning to get the best of both worlds.
Rapid advancements in retail have led to even more dramatic changes in delivery. Supply chain innovations have tried to keep up with consumer demands for faster delivery, while also improving transparency.
Improve Online Shopping Experiences
As the online experience has improved, it almost seems like the in-store experience is forgotten. More than a fourth of consumers (27 percent) think the online experience is already better than the in-store experience, and another 15 percent believe it will surpass the in-store experience in the next year. Although 54% of shoppers still prefer to make purchases in-store, only 22% don't expect the online shopping experience to rise. However, in-store shopping is making a comeback among the youngest shoppers.
More than half of Gen Z consumers prefer shopping in-store (58%), putting them on par with the oldest consumer groups. By comparison, less than half (46 percent) of 26-45-year-old consumers prefer to shop in the store. Also, they buy less online (23 percent weekly, compared to 37 percent weekly for ages those ages 26-35). These shoppers, who grew up in the age of social media, crave instant gratification and an authentic experience from retailers.
The shift to the connected consumer shows no signs of slowing down, and buying habits are transforming. Retail isn't just about when customers are ready to buy anymore– it's a constant engagement with technology and experiences that drive the future of commerce.
While the future of retail was once all about the e-commerce experience, online shopping has become so commonplace that it's now an assumed retailer capability. The future is now shaped by the connected consumer and the increasingly ubiquitous nature of technology. In this always-on environment, brands must themselves be always on – not just online, but everywhere their customers go.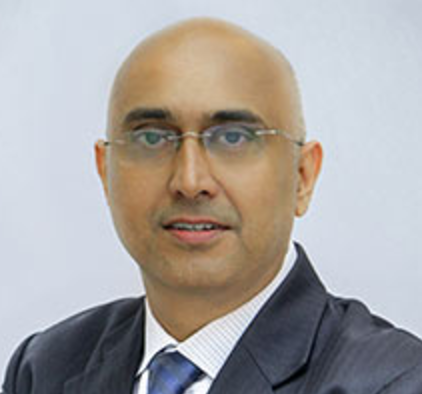 Written By: Ameet Gwalani
Chief Business Enabler